If you have a recipe that you would be willing to share with our guests, please send us an email to chuckwagonsupply(at)yahoo.com. Please be sure to give credit to the author of the recipe including yourself if it is your creation.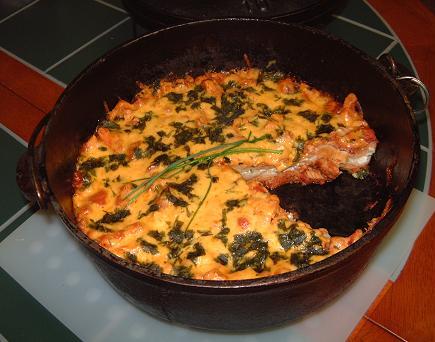 MEXICAN LASAGNA
Jane Miles
10" Dutch Oven
9 Bottom Briquettes
5 Top Briquettes
Serves: 6-8
Heat 2 tablespoons olive oil in large skillet over medium heat. Add 4 boneless skinless chicken breast halves, cut into 1/2-inch pieces; 2 teaspoons chili powder, 1 teaspoon ground cumin, 1 teaspoon salt, fresh ground pepper and 2 cloves garlic, minced. Cook 4 minutes or until tender, stirring occasionally. Stir in 1 can (14½ ounces) diced tomatoes, drained, 1 can (8 ounces) tomato sauce and 1 teaspoon hot pepper sauce; bring to a boil. Reduce heat simmer 2 minutes.
Combine 1 cup part-skim ricotta cheese, 1 can (4 ounces) diced green chilies and 2 tablespoons chopped fresh cilantro in small bowl; mix until blended.
Spoon half of chicken mixture into the bottom of a ten inch Dutch oven. Top with 4 corn tortillas, ricotta cheese mixture, remaining 4 corn tortillas, remaining chicken mixture, 1 cup (4 ounces) shredded Cheddar cheese and an additional 2 tablespoons fresh chopped cilantro.
Place 9 charcoal Briquettes on the bottom and 15 charcoal briquettes on the top. Bake 25 minutes or until heated through.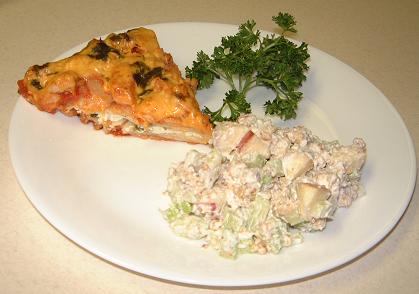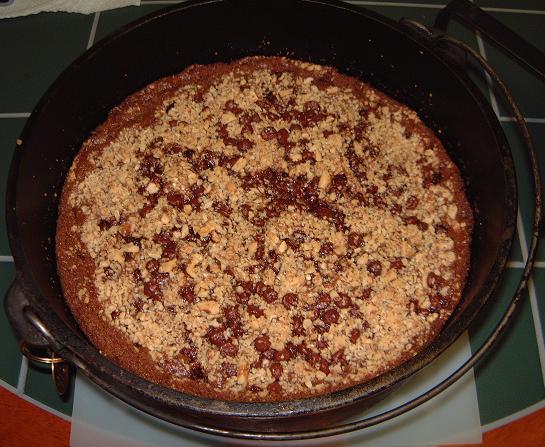 OATMEAL CHOCOLATE CHIP CAKE
Jane Miles
12" Dutch Oven
10 Bottom Briquettes
16 Top Briquettes
Serves: 12-16
In a mixing bowl, pour 1¾ cup boiling water over 1 cup uncooked oatmeal. Let stand for 10 minutes. Add 1 cup packed brown sugar, 1 cup sugar and ½ cup softened butter, stirring until butter is melted. Add 3 eggs one at a time, beating well after each addition.
In a separate container mix together 1¾ cups all-purpose flour, ¼ cup cocoa, 1 teaspoon baking soda and ¼ teaspoon salt. Add to batter; mix well. Stir in 1½ cups chocolate chips.
Spray a 12" Dutch oven with Bakers Joy®. Pour batter into the Dutch ovens. Sprinkle ¾-1 cup chopped walnuts and 1 cup additional chocolate chips on top. Bake with 10 charcoal briquettes on the bottom and 16 charcoal briquettes on the top for 45-60 minutes or until a toothpick inserted near the center comes out clean. Cool in Dutch oven.