If you have a recipe that you would be willing to share with our guests, please send us an email to chuckwagonsupply(at)yahoo.com. Please be sure to give credit to the author of the recipe including yourself if it is your creation.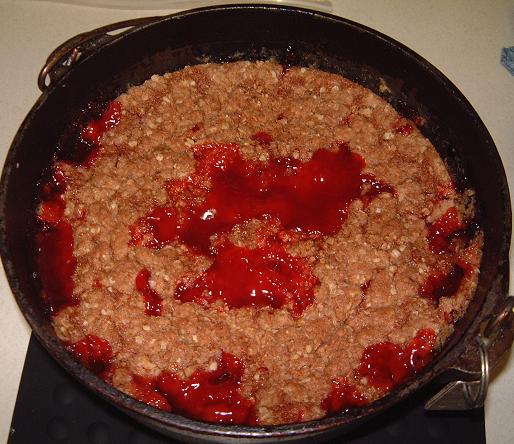 Dale Smith's Great Meals Dutch Oven Style
Old Dutch Style (Meaning "the practice of placing the food directly in the bottom of a cold Dutch oven.")
10" Dutch Oven
Preheat lid with 15 coals around the edge and 4 coals in middle. Use 6 coals in checkerboard pattern on the bottom.
SERVES: 6-8
Filling:
2 cans (21 ounces each) cherry pie filling
Juice from 1 lemon
Mix cherries and lemon juice and pour directly into Dutch oven.
Topping:
1½ cups cake flour
½ cup quick oats
¼ teaspoon salt
½ cup brown sugar
½ cup white sugar
1½ cubes soft butter
½ teaspoon baking soda
½ cup chopped pecans
Cream together butter, salt, soda, brown sugar, and white sugar. Mix oats, flour and nuts into creamed butter mixture. Sprinkle over cherries.
Set Dutch oven over the 6 hot coals and set preheated lid on Dutch oven. Cook for 45 minutes, until brown.